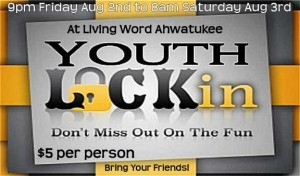 Don't forget, August 2nd is our second ever LWA 1youth lock-in. Don't miss a whole night of fun and games. The fun starts right after the movie and goes until 8:00am Saturday morning!
Cost is just $5 per person, but if you help out at our concessions table (6pm setup) we will pay for you. Also, if you bring a friend, we'll pay for both of you!
Rules and parent permission forms will be available at the LWA info counter and in the youth room.